I was notified by LinkedIn that someone had commented on one of my LinkedIn articles yesterday, and going back I realized I had written and published it over five years ago in August 2016. With thanks to that person, Brendan G, whose comment nudged me to write this update.
There are two parts to this, the "macro tuning" and the "micro tuning." In the Macro tuning you "tell" LinkedIn what type of content you want to see, and who you want to see it from. Micro tuning refers to the adjustments you make on the fly.
Macro tuning – telling LinkedIn what you want to see
On a macro level, LinkedIn decides what you see based on who you have interacted with lately on LinkedIn, and what your settings are in the My Network tab. Here's how mine looks: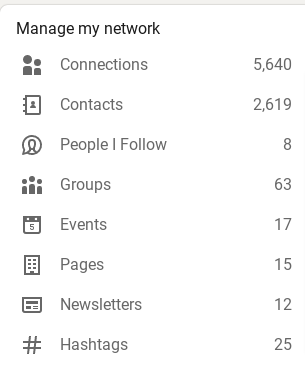 Clicking on any of these eight network sources will allow you to manage them. For example, clicking on Pages allows you to decide which companies you want to Unfollow to remove their posts from your feed.
Some quick thoughts:
Connections I manage on a case by case basis from my homepage feed itself. I talk more about these below in the Micro part of this newsletter.
People I follow are the people you have chosen to follow that you are not connected with.
Groups are the ones you have joined.
Similarly, events are the events you have signed up for. I have a bunch of events because as the company page admin for my clients, when I set up an event on their pages, I am automatically signed up for the event.
Pages are the companies you follow.
Newsletters are the newsletters you subscribe to.
And hashtags are the topics you have chosen to follow. Hashtags have a real effect, one that you see in your feed. I suggest you go for categories and hashtags that are as narrow as you can find. Selecting #strategy – which has millions followers will result in all kinds of posts pertaining to strategy. But #designstrategy with twenty thousand followers will result in much more targeted content. This is another area you should experiment with. Like performing searches, there is a sweet spot for getting the "right" amount of results that will fit your purposes.
"Micro" tuning – telling LinkedIn who and whose content you wish to see
Micro tuning is adjusting your feed based on what LinkedIn presents you. Note that while you have indicated to LinkedIn which people, topics and companies you want to see, LinkedIn is making constant adjustments to what you see based on both your activity on LinkedIn and how you respond to what's in your feed.
You can adjust your feed via each individual post presented to you. On each post is a menu that presents itself if you click the three dots at the far top right of the post.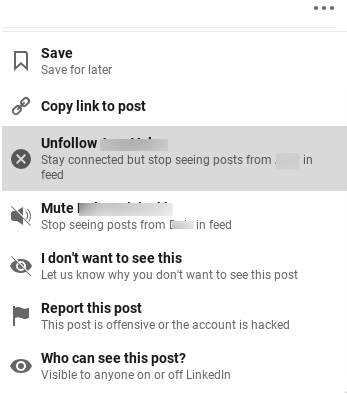 For the purposes of this discussion, the three important options here are "Unfollow", "Mute" and "I don't want to see this".
Unfollowing applies to connections and people you follow already. Unfollowing is a good option if the person you are connected with is worth staying connected with, but they tend to overpost, or post non-professional content or content you are not interested in. I tend to unfollow someone who is a repeat offender.
Muting appears to be the case when someone you are connected with or following posts something you are not interested in, and someone you follow or are connected with liked it, commented on it, or shared it.
I have found the ability to mute and unfollow people to be particularly valuable with the prevalence of Polls on LinkedIn. I am not interested in general-interest or quirky polls from connections, and I am not interested in them from non-connections either.
Clicking "I don't want to see this" will bring up another list to choose your reason why you don't want to see it.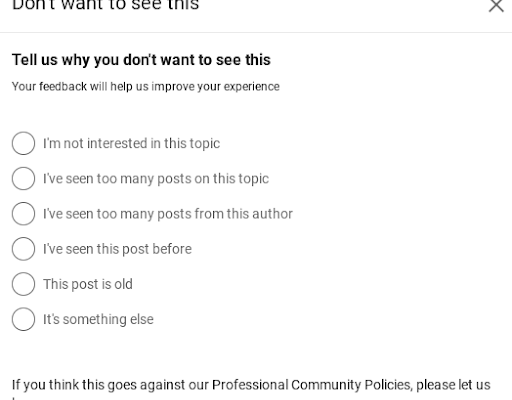 Usually, I click on "I don't want to see this" when the post is one of:
Non-professional
It's the same post LinkedIn showed me earlier. This happens to me a lot. I will come back to my homepage ten times in one day and every time, LinkedIn presents the same post. LinkedIn must really think I should see it.
The post is old. I am surprised but this happens more often than I would have thought. LinkedIn will show me a post that is four days old.
I will be honest though, in that while unfollowing people has had a wonderful effect on cleaning my feed, I am not sure that rendering my reasoning why I don't want to see an individual post has any effect at all.
Since I started aggressively unfollowing the Poll people, my feed has improved immeasurably. I actually see posts on topics I am interested in instead of a poll on whether I prefer coffee or tea.
And because everyone asks: no, you can't choose to just "unsee" likes or comments from individuals. You either follow them and see everything, or unfollow them and see nothing.
In closing, I would encourage you to do two things: Be cognizant that there are things you can do to improve your feed, and experiment with your settings, both macro and micro. See if your feed "feels" more relevant to you after a week or two.
The obligatory disclaimer: I do not work for or have any association with LinkedIn, other than being a user who pays them for his Sales Navigator subscription every month. For some reason LinkedIn gave me early access to the LinkedIn Newsletter. I have no idea why, but thanks for reading.
Want more like this? (the newsletter I mean, not the disclaimer) I publish a weekly email newsletter on using LinkedIn effectively for Sales and Marketing. Each newsletter typically contains two to four articles, it's free, and you can unsubscribe anytime. Here's a link to the sign up page: https://practicalsmm.com/contact/